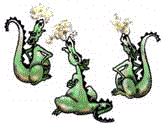 Hi! Stay and Visit Awhile…
We've brought some "story dust" out of the Clubhouse to our Lounge! So now anyone stopping by can enjoy meeting our invited guests here to learn something new about storytelling.
You know that at the Kids' Storytelling Club, we help kids learn to create and tell stories. Well, one of the best ways to learn to be a storyteller is to listen to storytelling, and meet and learn from creative experts. So here in the Visitors' Lounge next to our Clubhouse, we occasionally may feature guests that you might enjoy learning about and learning from. There may be artists, authors, storytellers or others, with discussions, stories, art and crafts, and more. So come look around and see who's visiting us now in our Lounge, and what wisdom, ideas, inspiration, or other sparks of "story dust" our guests bring for you.
On our Front Porch you can learn more about the Club, or you can go in the Back Door to the Clubhouse to find help to turn your "story dust" into complete stories to tell.
Find More Storytelling:
You can find stories everywhere, in everyday situations or in formal programs. Listen at family gatherings, club meetings, religious or cultural events, library programs, and local festivals. To study how the pros tell stories, you can also watch or listen to storytelling recordings available online from professional storytellers. In our Clubhouse Activity Room, you'll find more ideas how to find or create opportunities to hear and tell stories. And in our Clubhouse Treasure Chest are helpful tips how to get ideas and learn skills from other storytellers.