Craft Closet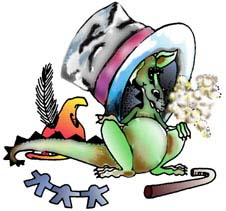 Costumes, masks, signs, crafts, props, puppets, toys, musical instruments – there are many things that can all make your storytelling more fun for you and your listeners. You don't have to learn new skills, you can create easy crafts or use talents that you already have.
Here in the Kids' Storytelling Club Craft Closet you'll find a variety of ideas and general suggestions for such "story helpers". And there's also a featured craft with specific instructions. All crafts have been made and used successfully for storytelling. Also, you might find more crafts in the Treasure Chest. Don't try to copy exactly, all this is just to inspire you. Do things your way, to fit your story.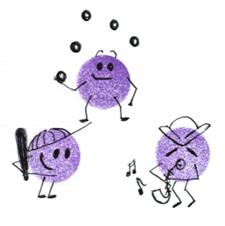 Drawing, Painting, and Paper Crafts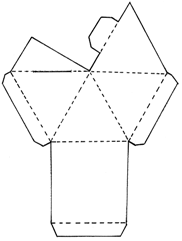 Storytelling art can be as simple as a fingerprint with lines added. But you can also tell stories while painting larger art, maybe with chalk on a sidewalk or driveway, or markers on a white board.
Or you might choose to fold and cut paper to make snowflakes, paper dolls, origami, paper airplanes, or small paper boxes of various shapes and designs. In your story, such small boxes can hold very big things, like courage, or love. You can do simple crafts alone to show how. Or do together with your audience. This keeps a small audience busy, as when babysitting. Or it gives an audience something to take home from an event, such as a library storytelling.
Puppets and Dolls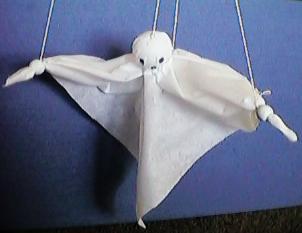 Dolls or puppets can help show your story or be "listeners" helping you tell. You can buy or make dolls of any size. Also consider yarn dolls, wooden nesting dolls, or other unusual dolls. Puppets, too, can be any size or style. Tape paper eyes onto a trash bag tied over an upside-down broom; such huge puppets are useful for outdoor storytelling or if an audience is large or far away. Make tiny puppets by gluing printed images onto clothespins or popsicle sticks. Or, glue felt faces on a sock, or use a marker to draw faces on glove fingers. Such small or soft puppets pack well for using in a car or airplane, and glove fingers can tell stories of a group of characters working together. You can also use a hand puppet with a Styrofoam head. Or, add strings to dolls or stuffed animals to quickly make marionette puppets. So, which comes first, puppet or story? Either. Create a story for a puppet you made, or make a puppet to help tell a story.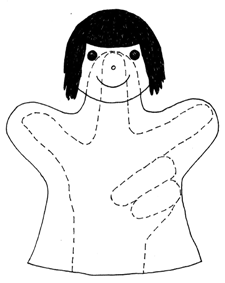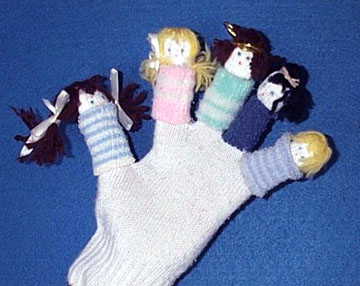 Magnetic Boards, Felt Boards, and Quilts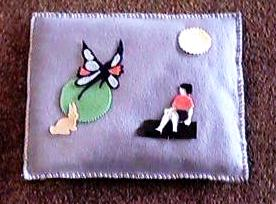 These "storyboards" can help show your story as you tell it. They can be simple to make. Put felt or magnet strips on the back of paper or cardboard characters or scenery. They will stick to a flannel board or metal tray. Move them as you tell. Pointing to quilt blocks or lap quilts can also show a story.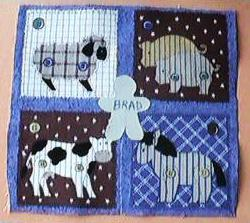 Signs, Masks, and Costumes
You can buy party costumes or masks, but it is easy to make simple ones. Masks can be as basic as a decorated paper plate you hold near your face. A costume can be no more than a special hat or wrap. Remember, it is not a disguise, but an aid to help your audience understand your story.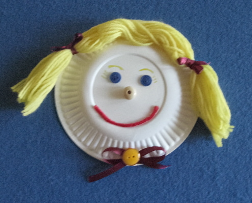 Music and Sound
Some storytellers sing their stories as ballads while playing guitar, or add flute or shake bells when certain characters arrive in the story. Even if you do not have or play an instrument, you can buy or make simple sound-makers such as party horns, jingle bells, or shaker rattles.
Baking and Food
Gingerbread houses, gingerbread men, or other cookies can help tell a (delicious) tale! Or, use a decorated cake, special holiday breads, or any special food unique to your story. You can make it before you tell and share the finished product, or make it together with your audience as a group activity while telling. Make from scratch or use a kit or package.
Props and Toys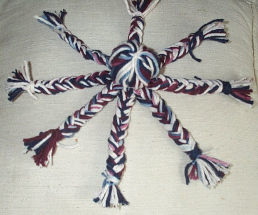 Just a ball, a balloon, or a basket can help tell a story. A familiar toy or model can make you feel more at ease. If your story is about an object or toy, display and explain it or demonstrate how to make or use it.
Remember, the best "story helper" to use is the one that will help YOU tell YOUR story.
Featured Craft:
CLICK or TAP HERE for a storytelling craft example in our featured club project.
Special Note About Crafts:
You can find detailed instructions to make and use some of these crafts with sample stories in Storytelling Adventures, Storytelling for the Fun of It, and Storytelling Discoveries, and find similar story-and-craft projects in Discover Bright Fantasy. All are available in our Bookstore.
Corner Quiz!
What kind of toy might you use for storytelling while babysitting?
(Hint: look in our Activity Room)