Parent Teacher Corner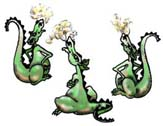 Kids are natural-born storytellers. But they need adults to encourage and help them make the most of their abilities. So here at the Kids' Storytelling Club we want to help the grown-ups help the kids they know. So in the PT-Corner you'll find advice how to use this website, and other helpful information.
A Few Words About Safety And Privacy
Our privacy policy is simple: we don't collect and store and sell or share information. For more than twenty years we've made this a secure, safe and ad-free site to help kids learn. Our technical advisors carefully evaluate new technology to make sure we will continue to be safe in the modern online world.
A Few Words About Copyright And Publishing
The Kids' Storytelling Club is a place to learn, not a place for kids to publish stories. We may sometimes suggest activities, events, or places to tell, but we are not affiliated with, or endorsing any. We allow kids to find and create their own storytelling opportunities.
All website content is copyright protected. Can kids use it in storytelling then? Of course! It is our hope that the crafts, stories, and suggestions on our site will help inspire kids. Anything here can be used in any storytelling performance, if the storyteller just first mentions where they found it. For any written use, however, please contact us first (info@storycraft.com) for permission to reprint. All dragon art is by Bobbi Shupe, used with permission. All other art copyright Barbara Dubrovin, photos by Vivian Dubrovin.
A Few Words About Us
The Kids' Storytelling Club is sponsored and maintained by Storycraft Publishing, in Loveland, Colorado. Vivian Dubrovin is the managing editor. She has more than forty years experience helping kids learn to create and tell stories.
A Quick Tour Of The Website
The Kids' Storytelling Club can be used in several ways; the featured story, craft, and activity can all relate together as a teaching unit to help kids learn a storytelling skill such as creating characters, recovering from mistakes, or using props. Or, each section alone can provide a more in-depth resource for specific questions, such as looking for sample stories or for prop ideas. While one craft or story might not be one that inspires, glancing through a variety of ideas may often spark imagination. And the Loft and Lounge provide additional views to help young tellers get expert answers, or even find questions they hadn't considered. Most of our projects encourage offline hands-on activities to continue the learning. While kids can use later any ideas they find here, Treasures are made to be downloaded as helpful take-home reminders, tips, or activities. We hope you enjoy our website and that you and the kids you know find the information here useful and fun. If you have questions or want to learn a little more about us, you can visit our Information Desk. Welcome to the Club!
Click HERE for a few specific examples of advice and suggestions to help kids with storytelling projects